---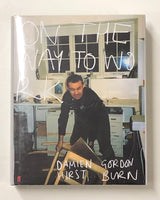 On the Way to Work by Damien Hirst and Gordon Burn


8vo. pp. 232. profusely illustrated. boards. dw. [London]: Faber and Faber, [2001].

New.


ISBN-10: 0571202578 / ISBN-13: 9780571202577

_____________________________________________________________________________________________
"I want it to be revealing. I'll talk about anything you like. I want it to be truthful. Let's do it. There is no off-limits. I'm afraid of nothing." Immediately recognised as a young artist with a brilliant, sordid and uncompromising imagination, Damien Hirst is the most celebrated artist Britain has produced for generations. The undisputed leader and originator of the dominant movement in contemporary art on both sides of the Atlantic, he is now so ingrained in the public consciousness that even those with only a passing interest in art are familiar with his notorious shark and pickled sheep. Gordon Burn met Hirst for the first time nine years ago. Both admirers of David Sylvester's interviews with Francis Bacon and Jan Wenner's interviews with John Lennon, there was always an unspoken understanding between them that they would do something similar when the time was right. The resulting conversations in
On the Way to Work
are electrifyingly candid. True to the undertaking Hirst gave Burn, there is no off-limits: here are Hirst's thoughts on celebrity, money, art, alcohol, sex, death, the North of England, class, crime and cocaine; his views on Marco Pierre White, Charles Saatchi, David Bowie, Gilbert and George and Lucian Freud. Damien Hirst's art and life came to define the nineties. Like the generation Hirst has come to represent,
On the Way to Work
is brave, unpredictable, scabrously funny and corrosively intelligent. It is also a how-to guide to becoming the most famous artist in the world.