---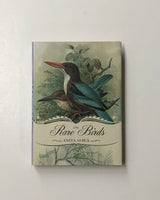 On Rare Birds by Anita Albus
Translated from the German by Gerald Chapple

8vo. pp. x, 276. colour & b/w illustrations. bibliography. index. hardcover boards. dw. (near fine - light shelf-wear from in-store handling). Vancouver: Greystone Books, [2011].
ISBN-10: 1553654773 / ISBN-13: 9781553654773
_______________________________________________________________________________________________
On Rare Birds is an endearing compilation of the history and extinction of several bird species, along with detailed accounts of many rare birds. Award-winning writer Anita Albus combines her education in natural history with investigative reporting, transforming each bird's tale into a captivating combination of culture, mythology, science, and lyrical storytelling. Illustrated with stunning avian portraits throughout, it tells the compelling stories of ten rare or extinct bird species―from the tragic demise of the once-abundant Passenger Pigeon to the shooting death of the last Carolina Parakeet in the wild, and from the startling natural defences of the "willful Nightjar" to the diverse cultural significance of the Kingfisher. Some stories bear sad witness to precious species we have lost, but they are all fascinating and often heartwarming or humorous depictions of the unique lives and loves of birds. With knowledge, devotion, and a true artist's eye, Albus explains in graceful, precise prose why the decline of these bird species is a great loss both to the natural world and, unavoidably, to culture. With each species lost, a world is lost to human understanding―to our arts, our mythology, and our environment.