---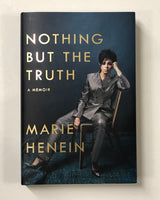 Nothing but the Truth: A Memoir by Marie Henein

8vo. pp. xii, 266. black & white text illustrations. boards. dw. [Toronto]: Signal, [2021].


New.


ISBN-10:
0771039344
/ ISBN-13: 9780771039348

____________________________________________________________________________________________

An intimate and no-hold-barred memoir by Canada's top defence lawyer, Nothing but the Truth weaves Marie Henein's personal story with her strong held views on society's most pressing issues.

With Nothing But the Truth, Marie Henein, arguably the most sought-after lawyer in the country, has written a memoir that is at once raw, beautiful, and altogether unforgettable. Her story, as an immigrant from a tightknit Egyptian-Lebanese family, demonstrates the value of strong role models--from her mother and grandmother, to her brilliant uncle Sami who died of AIDS. She learned the value of hard work, being true to herself and others, and unapologetically owning it all.

Marie Henein shares here her unvarnished view on the ethical and practical implications of being a criminal lawyer, and how the job is misunderstood and even demonized. Ironically, her most successful cases made her a "lightning rod" in some circles, confirming her belief that much of the public's understanding of the justice system is based on popular culture, and social media, and decidedly not the rule of law. As she turns 50 and struggles with the corrosive effect on women of becoming invisible, Marie doubles down on being even more highly visible and opinionated as she deconstructs, among other things, the otherness of the immigrant experience (Where are you really from?), the pros and cons of being a household name in this country, opening her own boutique law firm, and the likes of Martha Stewart and her commoditization of previously unpaid female labour. Nothing But the Truth is refreshingly unconstrained and surprising--a woman at the top of her game in a male-dominated world.