---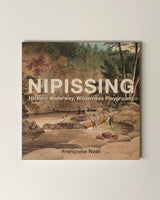 Nipissing: Historic Waterway, Wilderness Playground by Francoise Noel
8vo. pp. 270. maps & illustrations. bibliography. index. paperback wrs. [Toronto: Dundurn, 2015].
New.
ISBN-10: 1459724399 / ISBN-13: 9781459724396
_______________________________________________________________________________________________
2016 Louise de Kiriline Lawrence Award — Shortlisted
2015 Speaker's Book Award — Shortlisted
Explore the history of tourism in the Nipissing Passageway, from Mattawa to Georgian Bay, beginning with Champlain's voyage in 1615.


In the nineteenth century, while the hope of building a Georgian Bay Ship Canal remained elusive, promotional efforts were made by the railways to market the area as a "sportsman's paradise." In the early twentieth century, Ontario began to build roads to lure American motorists to the area. In
Nipissing
, Françoise Noël demonstrates how these efforts led to the early appearance of cottagers in the French River area and the rise of local outfitters. Places of interest include Quintland, named for the famed Dionne Quintuplets, which was seen as a "pilgrimage" site and saw resort expansion through to the post-war recovery.

A look at the Nipissing area today reveals that, for many, it remains a wilderness playground.