---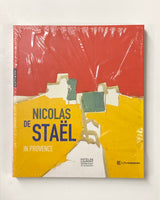 Nicolas de Stael in Provence Edited by Marie du Bouchet & Gustave de Stael

4to. pp. 216. ENGLISH text. profusely illustrated. wrs.
Paris:

Editions Hazan

, 2018.


New in partially opened publisher's shrink wrap.
ISBN-10:
0300238622
/ ISBN-13: 978030023862
Published to accompany an exhibition held at the Hotel de Caumont, Aix-en-Provence from 27 April to 23 September, 2018.
______________________________________________________________________________________________
Celebrated for his landscapes that occupy a place between the figurative and the abstract, Nicolas de Staël (1914–1955) was a Russian-born French artist whose works encompass paintings, collage, illustrations, and textiles. This book focuses on the paintings that de Staël produced, arguably his finest, during a single, momentous year very near the end of his life. The paintings were created in the south of France between the summer of 1953 and the autumn of 1954, and were inspired by a journey de Staël took in August of 1953. Together with a group of family and friends, de Staël travelled through Italy, revisiting Naples and Pompeii and culminating in Sicily; the constant transformation of brilliant color in the art, architecture, landscape, and light of Italy made a deep impression on de Staël. The resulting paintings, bold compositions of red, yellow, orange, and green, are saturated with color and free-floating expressiveness.