---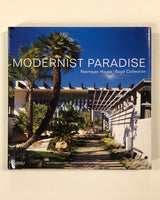 Modernist Paradise: Niemeyer House, Boyd Collection
text By Michael Webb principle photography by Tim Street-Porter

square, 8vo. pp. 222. profusely illustrated. boards. dw. New York: Rizzoli, [2007].
New & out-of-print.

ISBN-10: 0847828379 / ISBN-13: 9780847828371
_____________________________________________________________________________________________
Enriching the quality of life was the principle goal of the first modern architects and designers. The hallmarks of modernist design - open plans, clean lines, and honest construction in architecture and furnishings - were simply a means to an end. For these enlightened twentieth-century innovators, good design equated good living. This book shows the present-day epitome of such a "living with good design" experience, and demonstrates that the progressive ideal is as relevant now as when it was first proposed a century ago.
The Boyd Collection, one of the most important and comprehensive twentieth-century furniture collections in private hands today, is displayed in a mid-century residential masterpiece by the Brazilian architect Oscar Niemeyer, who is celebrating his hundredth year in 2007. The house if Niemeyer's only North American residential design, which the Boyds rescued from demolition and lovingly restored. Within its light filled rooms furniture by the great twentieth-century designers - Gerrit Rietveld, Jean Prouve, Charles and Ray Eames, and Arne Jacobsen among many others - play off visionary paintings, books, and objects. Though all the pieces are museum-worthy, the Boyds and their two children make the collection an integral part of their daily loves, inspired by the revolutionary spirit of modernism. New photography by Tim Street-Porter, Michael Webb's lively introduction, and essays by the Boyds on the joys of chasing and living with modernism makes this richly illustrated book a must-have for collectors and everyone of who loves rare and beautiful.