---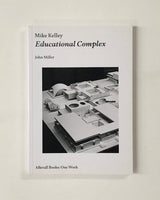 Mike Kelley: Educational Complex by John Miller



8vo. pp. 124. profusely illustrated. paperback wrappers. [London]: Afterall Books, [2015].


From the One Work book series.

New.


ISBN-10:
1846381509
/ ISBN-13:
9781846381508

_______________________________________________________________________________________________
An illustrated examination of a 1995 work by Mike Kelley that marked a significant change in his work.


One of the most influential artists of our time, Mike Kelley (1954–2012) produced a body of innovative work mining American popular culture as well as modernist and postmodernist art—relentless examinations of subjectivity and of society that are both sinister and ecstatic. With a wide range of media, Kelley's work explores themes as varied as post-punk politics, religious systems, social class, and repressed memory. Using architectural models to represent schools he attended, his 1995 work, Educational Complex, presents forgotten spaces as frames for private trauma, real or imagined. The work's implications are at once miniature and massive. In this book, John Miller offers an illustrated examination of this milestone work that marked a significant change in Kelley's practice.
A "complex" can mean an architectural configuration, a psychological syndrome, or a political apparatus, and Miller approaches Educational Complex through corresponding lines of inquiry, considering the making of the work, examining it in terms of education and trauma (sexual or otherwise), and investigating how it tests the ideological horizon of art as an institution. Miller shows that in Educational Complex, Kelley expands his political and aesthetic focus, including not only such artifacts as generic forms of architecture but (inspired by the infamous McMartin Preschool case) popular fantasies associated with ritual sex abuse and false memory syndrome. Through this archaeology of the contemporary, Miller argues, Kelley examines the mandate for education and the liberal democratic premises underpinning it.