---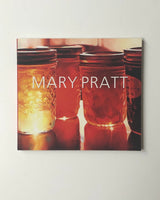 Mary Pratt by Ray Cronin, Mireille Eagan, Sarah Fillmore, Catharine M. Mastin, Sarah Milroy, Caroline Stone
Preface by Tom Foran
Foreword by Sheila Perry


8vo. pp. 160. illustrated. chronology. bibliography. index. paperback wrs. [Fredericton]: Goose Lane in association with The Rooms Corporation of Newfoundland & Labrador, [20016].


Second Edition.


New.


ISBN-10: 0864928971 / ISBN-13: 9780864928979
_______________________________________________________________________________________________
Following a stunningly successful national touring exhibition and a sold-out hardcover edition of the accompanying book, Mary Pratt is available once again in this elegant paperback edition.
There's something deeply resonant about Pratt's painting for contemporary audiences — particularly for those that are food obsessed. The dark light of a jelly jar, the slippery weight of filleted cod, the dark drippings of a bloody roast, the wet yellow yolk of a cracked egg. Pratt takes these seemingly mundane subjects and fills them with light, giving them a monumental quality, making them seem luminous, significant, memorable. For many, they have become seared into memory, iconic in the best sense of the word.
Mary Pratt, a career retrospective, features five major essays by columnist and art critic Sarah Milroy, Catharine Mastin of the Art Gallery of Windsor, Mireille Eagan and Caroline Stone of The Rooms Provincial Art Gallery, Sarah Fillmore of the Art Gallery of Nova Scotia, and art critic and curator Ray Cronin as well as 75 colour reproductions of Pratt's most renowned work, including Eggs in an Egg Crate, Salmon on Saran, Eviscerated Chickens, and Cod Fillets on Tin Foil.