---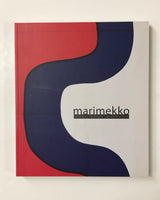 Marimekko Fabrics Fashion Architecture Edited by Marianne Aav


4to. pp. 336. profusely illustrated. chronology. bibliography. index. wrs. New Haven & London: Yale University Press, [2004].

Published for The Bard Graduate Center for Studies in the Decorative Arts, Design, and Culture, New York, and the Design Museum, Finland.

New.


ISBN-10:
0300189338
/ ISBN-13: 9780300189339
______________________________________________________________________________________________
Founded in 1951 by visionary textile designer Armi Ratia and her husband, Viljo, the Marimekko Corporation in Finland not only sparked a revolution in pattern making but also pioneered a new definition of fashion that embraced the entire home environment. This book presents more than one hundred examples of the exuberant Marimekko fashions and home furnishings that gave the company a definitive presence on the world design stage.
The book considers the history of the company from its founding through today and examines Marimekko's impact on design in Finland and around the world. The company's most important designers, including Maija Isola and Vuokko Eskolin-Nurmesniemi, their contributions, and their stylistic development are also discussed. In addition, the book examines Marimekko home and office interiors and how they reflected the lifestyle envisioned in Armi Ratia's broad, radical definition of fashion.