---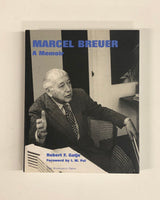 Marcel Breuer: A Memoir by Robert F. Gatje
Foreword by I.M. Pei


8vo. pp. 320. profusely illustrated in black & white. index. wrs. [New York]: The Monacelli Press, [2000].


New.


ISBN-10: 1580930298 / ISBN-13: 9781580930291

_____________________________________________________________________________________________

Modern master Marcel Breuer, born in Hungary in 1902, studied at the Bauhaus in Weimar and later taught at the Bauhaus in Dessau; his earliest projects were two legendary chair designs and residential work in Germany. In 1937 he was invited by Walter Gropius to the Harvard Graduate School of Design, where he taught for nine years, and in 1946 he moved to New York City and opened an office on Eighty-eighth Street. In 1953 young architect Bob Gatje joined the firm -- by this time, Breuer had built an exceptional series of private houses in New England and was deeply involved in the design of the Paris headquarters of UNESCO. This fascinating memoir recounts daily life in Breuer's office and also offers comprehensive, firsthand discussions of many of the firm's most important projects: it is a study not only of an architect but of an architecture practice.

Drawing on his own recollections, as well as extensive interviews with other architects, friends, and clients of Breuer, Gatje re-creates more than two decades in the Breuer office. His narrative includes many of the firm's most important projects: several buildings, including the sculptural "bell banner," at Saint John's Abbey in Collegeville, Minnesota; major buildings for IBM in La Gaude, France, and Boca Raton, Florida; the master plan and three buildings for the Hall of Fame campus of New York University; the Whitney Museum of American Art in New York; numerous private residences; and the master plan and all the buildings at Flaine, an enormous ski resort high in the French Alps. Illustrated with the author's own striking drawings of many of the projects, as well as with beautiful archival images and personal snapshots, Gatje draws a vivid and affecting picture of a unique architecture office, and of one of the great architects of the modern era.