---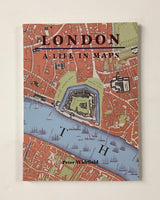 London: A Life in Maps by Peter Whitfield


4to. pp. 208. profusely illustrated. bibliography. index. wrs. [London]: The British Library, [2006].

New.


ISBN-10: 0712349197 / ISBN-13: 9780712349192


_____________________________________________________________________________________________

Like all the great historic cities of Europe, London appears to us solid and unchanging. We feel that we can still explore the London of Dickens, Dr. Johnson, Defoe, Wren and even Shakespeare. The very names St. Paul's, Smithfield, Charing Cross, St. James's, seem to link us with those past eras. But this solidity is an illusion, for throughout its long history London has been changing and evolving. It has been renewing or replacing the streets and buildings at its heart and has been spreading inexorably outwards. Maps are a vivid illustration of this dynamic process. This book offers a magnificent panorama of London's history by focusing on its maps. The devastation of the Great Fire; the emergence of the West End as a place of fashion; the opening of the Royal Parks; the building of the docks; the coming of the railway age; the impact of World Wars—all these changes are evident in historic maps. Over 100 important maps from the mid-16th century to the present day are illustrated and discussed. For all those who know and love London, but wish to look behind the modern façade, London: A Life in Maps will prove irresistible.