---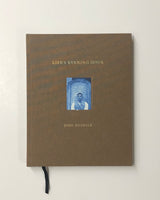 Life's Evening Hour
Prose and Photographs by John Dugdale
Photographs Edited by John Dugdale
Text edited by Shields Remine

4to. pp. 128. illustrated. hardcover cloth, with ribbon page marker in fine condition. [New York: August Press Limited distributed by D.A.P, 2000].

Edition limited to 2,000 printed copies.

Rare & out-of-print.
ISBN-10: 0967248426 / ISBN-13: 9780967248424
______________________________________________________________________________________________
In Life's Evening Hour, photographer John Dugdale invites us to explore liminal territory - the real between sight and blindness, between day and night, between physical and emotional. Celebrated for his imaginative use of the 19th century cyanotype process, Dugdale's blue images are distinct for their subtle and lyrical quality as well as their emotional resonance. In 1993 Dugdale lost 80 percent of his sight to an HIV-related illness, but has continued to pursue his art, as his creative vision has only grown stronger. This book bears witness to the photographs he created from the onset of his blindness to the present through Dugdale's photographs and words. The design of Life's Evening Hour complements the thoughtful nature of the photographs, and making reference to personal journals and common prayer books, the slipcase, clothbound binding, fine printing and papers as well as ribbon to mark pages distinguish this book as a high-quality collection of a unique photographer's work.