---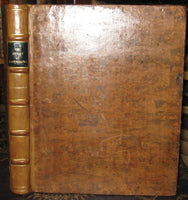 [KRASHENINNIKOV, Stepan Petrovich] [1713-1755]. The History Of Kamtschatka, And The Kurilski Islands, With The Countries Adjacent
4to. pp. 4 p.l. (incl. errata), vii, 280, [8]index. 2 folding engraved maps by Thomas Jefferys & 5 engraved plates (containing 7 views; 2 folding). contemporary marbled calf, rebacked & recornered (minor worming to lower blank margin of title & frontis. map & to front flyleaf). Glocester: Printed By R.Raikes For T.Jefferys, London, 1764.                                                         
First Edition of the abridged English Translation by James Grieve, of one of the earliest printed narratives about Alaska and the Aleutian Islands, and the first scientific account of Kamchatka. The author, a student at the Russian Academy of Sciences, was sent to join Bering's second expedition as an assistant to G.W.Steller. Much of his narrative is based on Steller's notes. Originally published in Russian in 1755, the work discusses in great detail natural history, the manners, customs and religion of the Kamchatkans, the power and influence of the shamans, and also compares the dialects of the Kamchatkans, Korsars and Kirile Islanders. 
   "The Russian Krasheninnikov started out across Siberia with Gerhard Friedrich Mueller and Johann Georg Gmelin, and then made his own way to Kamchatka. When Georg Wilhelm Steller arrived in Kamchatka to supervise his work, Krasheninnikov left in order to avoid becoming Steller's assistant, and returned to St. Petersburg. Krasheninnikov nonetheless was able to make use of Steller's notes in the preparation of his own narrative, and the inclusion of Steller's observations on America, made during his travels with Bering's second voyage, are an important part of this work, and constitute one of the earliest accounts of Alaska and the Aleutian Islands. Steller's account was not published until 1793...This is the first scientific account of those regions." (Hill)
   Arctic Bib. 9264. Bell K102. Cox I 351. Hill 948. Howes K-265. Lada-Mocarski 12n. Sabin 38301.