---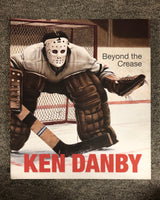 4to. pp. 196. profusely illustrated. index. bds. dw. [Fredericton]: Goose Lane Editions & The Art Gallery of Hamilton, [2016].
Catalogue of an exhibition held at Art Gallery of Hamilton from October 22, 2016 to January 15, 2017.

ISBN: 978-0-86492-963-1
New.
"We do not see with our eyes, but through them." - Ken Danby
Ken Danby (1940-2007) was one of Canada's foremost practitioners of contemporary realism. Inspired by his rural Ontario roots, Danby's now-famous images, his sense of place, and his uncompromising lens reflect a profound connection to the Canadian landscape and he Canadian psyche. At the Crease , a 1972 egg tempera painting depicting a nameless hockey goalie viewed from ice level, was his best-known work, and for many, it defined him as an artist.
Ken Danby's career extended far beyond that one defining work. An accomplished painter, watercolourist, and printmaker, Danby emerged as an artist with a modernist narrative in the 1960s and 1970s. Influenced by the fervent nationalism expressed in the folk music of the period, Danby's paintings, says art historian Patrick Hutchings, bring us "face to face with a moment of our own time."
Ken Danby: Beyond the Crease explores the depth and breadth of Danby's work: his carefully structured compositions, the complex relationship between line, place, and space, the rigorous handling of egg tempera, the vigour and immediacy of his watercolours, and his masterful printmaking.
Demonstrating the full force of Danby's creative practice, this magnificent book features dozens of archival photographs and more than seventy reproductions of his major paintings, drawings, and prints, including At the Crease, Lacing Up, Pancho, and Pulling Out.
The volume also includes two perceptive essays by Ihor Holubizky and Greg McKe as well as Danby's own words — from an unpublished memoir and a celebrated interview with Andrew J. Oko — which together offer fresh insight into the origins of Danby's work and its enduring significance. Art works by Ken Danby may be found in numerous private and public collections, including Art Gallery of Hamilton; Museum of Modern Art, New York; National Gallery of Canada; Montreal Museum of Fine Arts; Art Gallery of Vancouver; Art Institute of Chicago; and Brooklyn Museum. He was appointed to the Order of Canada in 2001.