---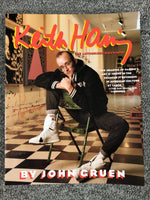 Keith Haring : The Authorized Biography
by John Gruen

8vo. pp. 254. profusely illustrated in colour & b/w. index. wrs. New York, Toronto...: Fireside, [1992].

ISBN: 9780671781507
New.

"As fascinating as any artist's biography has ever been, as instantaneously classic as Haring's imagery." - Booklist
Keith Haring's talent was first recognized on subway platforms, where his trademark chalk-drawn figures could be seen for the price of a token. By the time of his death in 1990 at the age of thirty-one, Haring's career had moved from underground New York to the most prestigious galleries and museums in the world.

Here Keith Haring's story is told by those who knew him—and by the artist himself. He candidly reflects on all aspects of his life, including his approach to art, being gay, and how he came to terms with AIDS. John Gruen masterfully combines Haring's own words with the observations of those who knew him best, including art dealer Leo Castelli; Madonna; artists Roy Lichtenstein, Francesco Clemente, and Kenny Scharf; Claude Picasso; Timothy Leary; and William Burroughs, among others. Haring emerges as both a courageous and enigmatic personality—a champion of art for all people.