---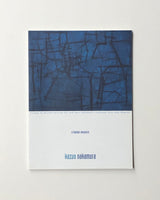 Kazuo Nakamura: A Human Measure
Essays by Richard William Hill, Kerri Sakamoto
Interview with John Mighton
folio. pp. 78. illustrated. paperback wrs. (fine condition). Toronto: Art Gallery of Ontario, [2004].
Rare & out-of-print.
ISBN-10: 01894243420 / ISBN-13: 9781894243421
________________________________________________________________________________________________
Published in conjunction with an exhibition.
Where is the line between art and scientific representation? A re-evaluation of Kazuo Nakamura's art in terms of his interest in science and mathematics reveals the core of his creative inspiration: the inevitable tension between the ideal of objective observation and the specificities of culture, politics and the limitations of human understanding. The subtle and poetic hand of the artist remains.
Although Kazuo Nakamura is best known for his pioneering abstract paintings of the 1950s, his long career in art is currently being re-evaluated. This exhibition examines the breadth of the oeuvre of this Canadian artist, and reveals an enduring set of concerns quite distinct from his Painters Eleven colleagues. While they pursued art with the existential sound and fury of Abstract Expressionism, it is now clear that Nakamura's ambitions were more contemplative, leading to work that increasingly presented the complexities of the natural world through the lens of mathematics.
Yet identifying Nakamura's interest in science and mathematics is really just a beginning. In all of the different ways that the artist has drawn on math and science, his work inevitably carries traces of his own particular experience. In his Number Structure works Nakamura graphs out number-structure patterns and calculations on canvas and paper to be presented as art. These are his most purely mathematical works, yet even here it is precisely the careful hand-rendering and sense of laborious process coming up against the ideal of pure mathematical structure that makes them powerful art. Similarly, Nakamura's early explorations of linear perspective are set against the background of his internment at Tashme during World War II. In this case the seemingly dispassionate efforts of the artist to record his environment are inevitably overlaid and transformed because of their political and cultural significance. This exhibition explores the tension between the ideal of objective observation and the particularities of culture, politics and human limitations.