---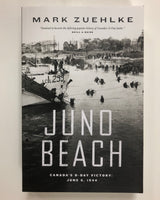 Juno Beach Canada's D-Day Victory: June 6, 1944 by Mark Zuehlke
8vo. pp. 415. 16 b/w illustrations. bibliography. index. wrs.
[Madeira Park, B.C.]: Douglas & McIntyre, [2005].

New.
ISBN-10: 1
553650913
/ ISBN-13: 9781553650911
By dawn on June 6, 1944, the rough seas facing tree small resort towns in Normandy bristled with an immense armada. More than 6.500 ships prepared to disembark Allied troops in a do-or-die effort: D-Day. The 14,500 Canadians among them were to take "Juno Beach," a five-mile-long stretch protected by a seawall, barbed wire, underwater obstacles, hundreds of mines - and heavily armed German forces inside concrete bunkers, fortified houses, and trenches.


Acclaimed military historian Mark Zuehlke recreated the pivotal day of World War II from planning through attack. Falling through a black night, praying to land on target were the newly trained Canadian paratroopers, who were among the first Allies on French soil. Canadian soldiers, most untested in battle, crossed the English Channel during a night storm and ran off landing craft into a deadly sea. Juno Beach is their story, shared at last in the rich detail their achievement deserves.