---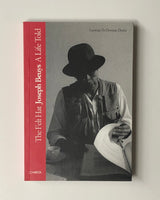 Joseph Beuys: The Felt Hat A Life Told by Lucrezia De Domizio Durini {Charta Risk, 3)

8vo. pp. 250. black and white illustrations. paperback wrs. [Milano]: Charta, [1997].

New.
From the Charta Risk series.
ISBN-10: 8881580659 / ISBN-13: 9788881580651
________________________________________________________________________________________________
The Felt Hat provides a much-needed and accessible introduction to the work of this seminal twentieth-century artist. The book traces Beuys'' life from his birth in Krefels Germany in 1921 through his early studies in the natural sciences, to the dramatic events surrounding his plane crash during the war and his rescue by a tribe of Tartars, and finally through his career as an artist in the postwar years up until his death in 1986. At each stage in Beuys'' story, Lucrezia De Domizio introduces thematic concepts and statements related to Beuys'' work and philosophy, drawn from his writings and lectures. De Domizio has played an active and important part in the Italian and European art scene since the 1970s as a journalist and patron, and her home with husband Buby Durini became a meeting center for many of the leading figures in Conceptual art and Arte Povera, including Beuys, Merz, Kounellis, Fabro, Ontani, Clemente and Chia, among many others. She is the author of 14 books on Beuys and has organized several major exhibitions and conferences on his work.