---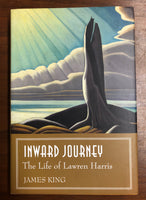 8vo. pp. 357. profusely illustrated. bibliography. index. bds. dw. Toronto: Thomas Allen Publishers, [2012].
The first complete biography ever published of Group of Seven artist and spokesman Lawren Harris.

Lawren Harris (1885-1970) is among the most iconic of Canadian artists. Harris was an outspoken defender of modernism, and a very private person. In this gripping, sympathetic account, James King writes about Harris' public persona as the spokesman for the Group of Seven as well as his championship of Canadian art and artists.

Born to great wealth, Harris spent much of his existence selflessly promoting Canadian painting and the interests of his fellow artists. But Harris' own personal struggle to become an artist was long and complex, and he was beset by much turmoil throughout his life. When, early in 1930, he achieved his creative peak – in paintings such as North of Lake Superior – he turned his back on representational art and spent the remainder of his career becoming an abstract painter.

Harris' unhappy first marriage, his flight to New Hampshire and New Mexico, his sometimes overbearing attitude towards younger artists, and the full magnitude of his inner struggles are all dealt with fully in this sensitive, engaging narrative that captures the complexity of the man behind the mask.