---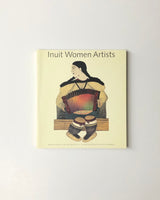 Inuit Women Artists: Voices from Cape Dorset
Edited by Odette Leroux, Marion E. Jackson and Minnie Aodla Freeman
4to. pp. 253. 200 illustrations (50 in full colour). bibliography. wrs. (New - foot of spine bumped). Vancouver: Douglas & McIntyre in association with Canadian Museum of Civilization, [1995].
First Paperback Edition.

New.
ISBN-10: 1550544705 / ISBN-13: 9781550544701
_______________________________________________________________________________________________
Twelve women artists and writers open this rare window on the northern world of the Inuit. From the nine artists, reminiscences of life on the land and thoughtful comments on the sources of inspiration for their art are interwoven with vivid images of a unique culture and a stern landscape. From the writers, comments from different vantage points illuminate the experience of Inuit women in the modern world. The voices of these women resonate throughout the book, recording their memories of a way of life that is threatened. Each one has a story to tell - of growing up female in a harsh environment, of adapting to new cultures and learning the nuances of new ways, of learning new art forms through which to portray the best - and worst - of their extraordinary lives. Each one speaks her concerns with energy: each artist illustrates her passions using art that is at once subtle and bold, delicate in detail yet forceful. Cape Dorset sits at the very heart of Inuit culture. Since the late 1950s, this community has symbolized the essence of Inuit art, thanks to the widely acclaimed work of artists like Kenojuak Ashevak, Mayoreak Ashoona, Pitseolak Ashoona, Qaunak Mikkigak, Oopik Pitsiulak, Napachie Pootoogook, Lucy Qinnuayuak, Pitaloosie Saila and Ovilu Tunnillie. Their art - graphics, sculpture and jewellery - is shown here in 200 superbly printed reproductions, over 50 of which are in full colour.