---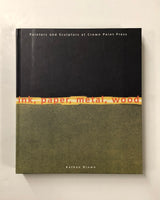 Ink, Paper, Metal, Wood: Painters and Sculptors at Crown Point Press By Kathan Brown

4to. pp. 287. profusely illustrated. index. boards. San Francisco: Chronicle Books, [1996].

New.

ISBN-10: 0811804690 / ISBN-13: 9780811804691

______________________________________________________________________________________________


A must-have for anyone interested in the art of printmaking, Ink, Paper, Metal, Wood presents the greatest prints to emerge from Crown Point Press, one of the top fine-art presses in the country. Author Kathan Brown, an internationally respected authority on prints, has hosted such world-renowned artists as Wayne Thiebaud, Richard Diebenkorn, John Cage, Pat Steir, and Chuck Close at the press she founded -- with amazing results. The fruit of their creative experimentation is clearly visible in Ink, Paper, Metal, Wood. Vibrant with color and image on virtually every page, this handsome volume includes unusually clear explanations of fine-art printmaking techniques and entertaining stories about the artists and their working habits. An engaging consideration of the creative process, Ink, Paper, Metal, Wood is also a comprehensive resource for artists in every medium and an essential work for novice and experienced collectors.