---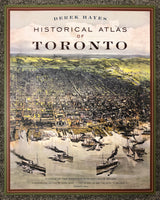 Historical Atlas Of Toronto by Derek Hayes


4to. pp. 192, [1]. numerous maps & illustrations, most in colour). index. paperback. Toronto: Douglas & McIntyre, [2008].

New.
ISBN-13: 9781553654971

We have hardcover copies available as well!
___________________________________________________________________________________________

"A major contribution to our knowledge and appreciation of Toronto" - C. Grant Head, Author of Ontario's History in Maps


Lavishly Illustrated with over three hundred maps, the Historical Atlas of Toronto charts the city's evolution from a Native village to a French trading fort to York, the capital of Upper Canada, and finally to Toronto, Canada's largest and most diverse metropolis. Through contemporary maps renowned map historian Derek Hayes reveals the critical roles that railways, streetcars, subways, and even the Canadian National Exhibition played in Toronto's explosive growth. Archival photographs and ephemera, along with an engrossing text, complement the maps shedding light on everything from Toronto's changing harbour and the reclamation of Ashbridge's Bay to the challenges of mitigating housing crises and maintaining infrastructure for Toronto's ever-growing suburbs. Here is a captivating look at the region's development, from Mississauga to Oshawa with many stops in between!