---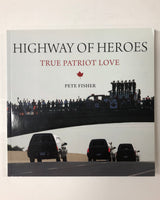 Highway of Heroes: True Patriot Love by Pete Fisher



square 8vo. pp. 178. profusely illustrated. wrs. Toronto: Dundurn Press, [2011].


New with a slight curl to upper corner of cover.


ISBN-10:
1554889715
/ ISBN-13: 9781554889716
________________________________________________________________________________________
Canadians line the overpasses of the Highway of Heroes to show their support, grief, and pride in our fallen champions


The first four Canadian soldiers killed in Afghanistan were repatriated at Canada's largest military base in 2002. The fallen soldiers were driven down the 172-kilometre stretch of highway between Trenton and Toronto, and pedestrians lined the overpasses, hoping to make a connection with the grieving families. The support these people show isn't political; its not a movement for or against Canadian soldiers in Afghanistan. Its always been a grassroots movement about showing respect for our fallen champions. People young and old, emergency services workers, Canadian Legion members, military personnel, friends of the fallen, and family of fallen soldiers stand atop each bridge along the highway - in the blistering heat or bone-chilling cold - to pay their respects. After five years of this display of patriotism, the Highway of Heroes was officially named in the summer of 2007 and has been a gleaming example of a nation's grief - and its pride.