---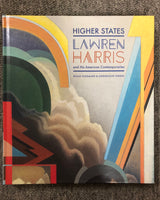 8vo. pp. 201. Lavishly illustrated in colour, some b/w. bio. biblio. index. bds. [Fredericton]: Goose Lane Editions & McMichael Canadian Art Collection, [2017].
Published in conjunction with an exhibition.
His iconic paintings of mountains, lakes, and icebergs made him famous. Yet, for much of his career, Lawren Harris had more in common with American painters such as Georgia O'Keeffe, Arthur Dove, Raymond Jonson, and Emil Bisttram than with his Canadian compatriots in the Group of Seven. Like his American contemporaries, Harris was drawn to the writings of Ralph Waldo Emerson and Walt Whitman and to the ideas of artist Vassily Kandinsky. By the mid-1920s, he had embraced international modernism and set out on a unique journey into abstract art.
In Higher States, Roald Nasgaard and Gwendolyn Owens focus a lens on Harris's colourful interior world., his all-consuming interest in expressing the essence of modern life, and the audaciously vivid abstract paintings that emerged.