---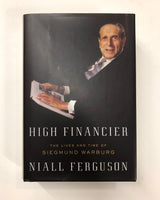 Sale
High Financier: The Lives and Time of Siegmund Warburg by Niall Ferguson


8vo. pp. xxi, 548. 8 b/w illustrations. index. boards. dw. New York: The Penguin Press, 2010.

NEW.


ISBN-10: 159420246X / ISBN-13: 9781594202469

________________________________________________________________________________________________

In this groundbreaking new biography, based on more than ten thousand hitherto unavailable letters and diary entries, bestselling author Niall Ferguson returns to his roots as a financial historian to tell the story of Siegmund Warburg, an extraordinary man whose austere philosophy of finance offers much insight today.

A refugee from Hitler's Germany, Warburg rose to become the dominant figure in postwar City of London and one of the architects of European financial integration. Seared by the events  in the 1930s, when the long-established family-run bank was first almost destroyed by the Depression and then "Aryanized" by the Nazis, Warburg was determined that his own bank, S. G. Warburg, would learn from the past and contribute to the healing of postwar Europe.

Siegmund Warburg was a complex and ambivalent man, as much a psychologist, politician and actor-manger as a banker. In High Financier Niall Ferguson reveals Warburg's idiosyncrasies: the love-hate relationships, the feline intuitions, the mercurial temper tantrums. But above all he recaptures the meticulous business methods and strict ethical code that set Warbrg apart from the mere speculators and traders who inhabit today's financial world.