---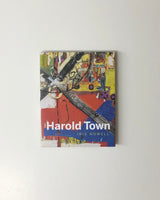 Harold Town by Iris Nowell
8vo. pp. 221. profusely illustrated. index. bibliography. hardcover boards. dw. Vancouver & Berkeley: Figure 1, 2014.
New.
ISBN-10: 1927958091 / ISBN-13: 9781927958094
______________________________________________________________________________________________
A dazzling painter and master draftsman, Harold Barling Town (1924--1990) became known as "the Picasso of Canada." Town started drawing as a three-year-old and never stopped; his oeuvre over 40 years totals more than 10,000 works -- paintings, collages, works on paper, lithographs, assemblages, sculptures, and murals. A member of Painters Eleven, the artists who introduced abstract expressionism to Canada in 1953, Town gained his first international recognition for his technically inventive Single Autographic Prints shown at the 1956 Venice Biennale. Alfred Barr, director of the Museum of Modern Art, called Town one of the world's greatest printmakers. Also a stylish writer and an erudite critic, Town experimented in countless drawing and painting themes, to the extent that his solo shows looked like group exhibitions. His bold, majestic paintings are as powerful as his refined pencil drawings. Just months before his death in 1990 he created a suite of portraits of jazz musicians, as accomplished as an artist at the height of his talent. In Harold Town, Iris Nowell presents a fascinating chronicle of this larger-than-life artist.Her text is accompanied by 90 stunning reproductions of Town's work from the numerous phases of his epic career.