---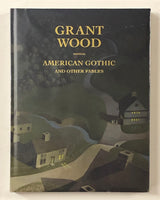 Grant Wood: American Gothic and Other Fables by Barbara Haskell, Glenn Adamson and Richard Meyer


4to. pp. 272. profusely illustrated. cloth. dw. New York: Whitney Museum of American Art, 2018.

New in publisher's shrink wrap.


ISBN-10:
0300232845
/ ISBN-13: 9780300232844


_______________________________________________________________________________________________

A major reevaluation of an iconic 20th-century American artist


This comprehensive study of Grant Wood (1891–1942) is packed with extensive new scholarship and provides fresh insight into the career of one of the key figures of 20th-century American art. Working primarily in the traditional genres of portraiture and landscape, Wood infused his paintings with a palpable tension that is grounded in the profound epistemological and social upheavals of his time. Exploring Wood's oeuvre from a variety of perspectives, this book presents the artist's work in all of its subtle complexity and eschews the idea that Wood can be categorized simply as a Regionalist painter.
 
Generously illustrated, Grant Wood: American Gothic and Other Fables includes several works published here for the first time, as well as new photography of other paintings. The essays in the volume contextualize Wood's work within a much larger art-historical framework than has previously been considered; renowned scholars address topics such as the artist's literary influences, the role of gender identity in his paintings, and the parallels between Wood's work and the contemporaneous European movements of Surrealism, Neue Sachlichkeit, Precisionism, Art Deco design, and the Arts and Crafts movement. Through a careful reconsideration of Wood's career, creative process, technique, iconography, and critical reception, this book reveals for the first time the deep significance and cosmopolitan breadth of Wood's artistic vision.