---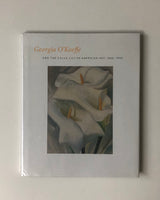 Georgia O'Keeffe and the Calla Lilly in American Art, 1860-1940 by Barbara Buhler Lynes
With Essays by Charles C. Eldredge & James Moore


4to. pp. xi, [1], 140. illustrated. artist biographies. bibliography. index. hardcover cloth. dw. New Haven: Yale University Press in association with the Georgia O'Keeffe Museum, Sante Fe, [2002].
New.
ISBN-10: 0300097387 / ISBN-13: 9780300097382

________________________________________________________________________________________________
During the second half of the nineteenth century, the exotic South African calla lily was introduced in the United States, and it began to appear as a subject in American art. The flower became even more popular with artists after Freud provided a sexual interpretation of its form that added new levels of meaning to depictions of it. The calla lily soon became a recurring motif in works by important painters and photographers, particularly Georgia O'Keeffe, who depicted the flower so many times and in such provocative ways that by the early 1930s she became known as "the lady of the lilies."
This gorgeous book features 54 paintings, photographs, and drawings of the calla lily dating from the 1860s to 1940. It includes nine of O'Keeffe's most renowned paintings of the flower as well as works by Imogen Cunningham, Charles Demuth, Marsden Hartley, John La Farge, Man Ray, Joseph Stella, and Edward Weston. The book includes an introduction by esteemed O'Keeffe scholar Barbara Buhler Lynes and essays on various aspects of the flower in American art by Charles C. Eldredge and James Moore.
This book is the catalogue for an exhibition at the Georgia O'Keeffe Museum from October 3, 2002 to January 14, 2003, which will then travel to the Albuquerque Museum from February 1 to May 1, 2003 and the Muscarelle Museum of Art in Williamsburg, Virginia, from May 31 to August 10, 2003.