---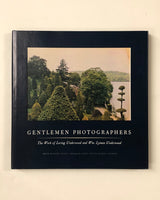 Gentlemen Photographers: The Work of Loring Underwood and Wm. Lyman Underwood Edited by Robert Lyons
Essays by Carol Shloss & Joel Snyder
Introduction by George C. Seybolt


square 4to. pp. 107. colour & black + white illustrations. hardcover cloth. dw. (some minor shelf wear to dw.) [Florence, MA]: The Solio Foundation, 1987.


ISBN-10: 0940097001 / ISBN-13: 9780940097001
_______________________________________________________________________________________________

Gentlemen Photographers follows the parallel paths of two talented amateur photographers whose lives and work occupied a unique position in turn-of-the-century New England. Scions of a wealthy commercial family (still famous for their deviled ham), the Underwood brothers produced photographs both for pleasure and to advance the interests of such emerging fields as landscape architecture, wildlife management, and the conservation movement. Their work collectively represents an early effort to exploit the new medium for pedagogical purposes, as each brother took to the lecture circuit to promote in his own way the preservation of our precious natural heritage. At the same time, these stunning photographs illuminate a neglected chapter in the history of American photography and call into question the distinction between amateur and professional.