---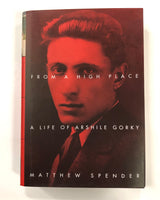 Sale
From A High Place: A Life of Arshile Gorky by Matthew Spender



8vo. pp. xxiii,417. black & white illustrations. quarter cloth. dw.  New York: Alfred A. Knopf, 1999.

New.


ISBN-10: 0375403787 / ISBN-13: 9780375403781


_________________________________________________________________________________________________

Arshile Gorky, one of the most intriguing figures in modern art, was at the center of the New York art world in the twenties, thirties, and forties. Yet he was never fully recognized as an important painter in his lifetime, and it was only after his death that his reputation soared. In this deeply felt and penetrating biography, Matthew Spender--himself a sculptor and the husband of Gorky's elder daughter--writes with extraordinary sympathy and perception, and he gets to the heart of his elusive subject.

Born in Khorkom, a small Armenian village in eastern Turkey, Arshile Gorky grew up haunted by memories of his alternately idyllic and terrifying childhood: the scars of the 1896 Turkish massacres of his people; then the mass slaughter of 1915 from which his own family fled; the desertion of his father; the dominance of his headstrong and loving mother, who died of starvation after they found shelter in the Caucasus.

Making his way to the United States, the young Gorky determined against all odds to become a painter. He buried his past by assuming a new name and identity, and brazened his way into the art world. At once charming and peremptory, seemingly an extrovert but secretive at heart, he could both dazzle and alienate his art students (Rothko was one of his earliest), his fellow painters, and his young loves, as well as potential dealers and patrons.


In telling Gorky's story, Matthew Spender gives us the most illuminating picture of the New York art scene that has yet been written--from the affluent twenties, when the Ash Can school was emerging, to the depressed thirties, which marked the high point of Gorky's career, when he painted a huge abstract mural for Newark Airport. During the explosive postwar years, Gorky withdrew into a world of increasing solitude, even as Andre Breton, the founder of surrealism, was championing him, along with other artist friends like Willem de Kooning, Roberto Matta, and Isamu Noguchi. His last years, dogged by tragedy and illness, threatened even the haven of his marriage and family, until finally, in 1948, he took his own life.


With his artist's eye, Matthew Spender helps us to see what lies behind the paintings--to recognize in the abstraction, for instance, the onion with feathers that hung from a cross above the fire pit in Gorky's childhood home in Khorkom. Above all, Spender understands the enormity of Gorky's sense of isolation in an America he did not fully understand, and that his need to invent the imaginary artist was what sustained his paintings. It is the perfect conjunction of writer and subject that makes this biography so rich in insight and so compelling as a human document.