---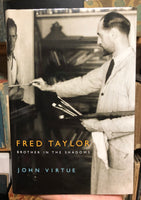 8vo. pp. xii, 302. b&w illustrations. bds. dw. Montreal & Kingston: McGill-Queen's University Press, [2008].
John Virtue uncovers the dynamics of a prominent Ottawa family and reveals the divergent paths of brothers E.P. and Fred Taylor. E.P. became mid-century Canada's leading industrialist, while Fred became an artist and a Communist.

Fred spent his youth trying to impress his father, while living in the shadow of his successful older brother. He eventually separated himself from family members - although never from their financial support - and turned to art and clandestine politics. Fred's Communism embarrassed E.P. and caused a rift between the brothers that lasted for two decades. A man who struggled to suppress his rage, Fred once shot and wounded a rival artist in a hunting incident, leading friends to question whether the shooting had been accidental.

Depicting the conflicted relationship between its two protagonists, Fred Taylor: Brother in the Shadows offers fascinating insights into the intellectuals and working-class people who became communists in Canada and their complicated and contradictory relations with the society they were rejecting.