---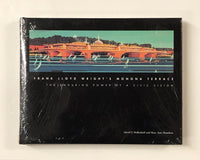 Frank Lloyd Wright's Monona Terrace: The Enduring Power of a Civic Vision By David V. Mollenhoff & Mary Jane Hamilton


oblong 4to, pp. 320. 200 colour illustrations. cloth. dw. Madison, WI: University of Wisconsin Press, 1999.


New in publishers shrink wrap.


ISBN-10: 0299155005 / ISBN-13: 9780299155001
______________________________________________________________________________________________

With sumptuous illustrations and superb documentation, the extraordinary story of the epic fifty-nine-year civic battle to build one of Frank Lloyd Wright's most important designs is finally told in Frank Lloyd Wright's Monona Terrace: The Enduring Power of a Civic Vision, by David Mollenhoff and Mary Jane Hamilton.
Opened in the summer of 1997 as a convention and community center, Monona Terrace was first conceived by Wright in 1938 and resulted in ten designs, thousands of drawings, five local referenda, ten lawsuits, and several acts of the state legislature. Mollenhoff and Hamilton provide the definitive history of the building's design, the tempestuous relationship of Wright to his hometown of Madison, and the community leaders and activists who rallied to oppose or support the project. Drawing from the Frank Lloyd Wright Archives, thousands of newspaper accounts, extensive government records, and dozens of interviews, the book also features more than 200 illustrations in color and black and white, including many published here for the first time.
In August 2000 The American Association for State and Local History (AASLH) proudly announced that David Mollenhoff and Mary Jane Hamilton are recipients of an AASLH Certificate of Commendation for Frank Lloyd Wright's Monona Terrace: The Enduring Power of a Civic Vision. This is a most prestigious recognition for achievement in the preservation and interpretation of local, state and regional history.