---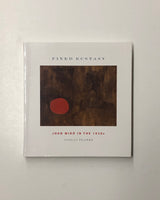 Fixed Ecstasy: Joan Miró in the 1920s by Charles Palermo
8vo. pp. xvii, 269. colour & b/w illustrations. index. paperback. University Park, PA: The Pennsylvania State University Press, [2008].
New.
ISBN-10: 0271029722 / ISBN-13: 9780271029726
_______________________________________________________________________________________________
Fixed Ecstasy advances a fundamentally new understanding of Miro's enterprise in the 1920s and of the most important works of his career. Without a doubt, Joan Miro (1893-1983) is one of the leading artists of the early twentieth century, to be ranked alongside such artists as Picasso, Matisse, Mondrian, and Pollock in his contributions to modernist painting. Still, Miro's work has eluded easy classification. He is best known as a Surrealist, but, as Charles Palermo demonstrates, Miro's early years in Barcelona and Paris require a revisionist account of Miro's development and his place in modernism.

Palermo's arguments are based on new research into Miro's relations with the rue Blomet group of writers and artists, as well as on close readings of the techniques and formal structures of Miro's early drawings and paintings. Chapter by chapter, Palermo unfolds a narrative that makes a cogent argument for freeing Miro from long-standing dependence on Surrealism, with its strong emphasis on dreams and the unconscious. Miro, along with associates such as Georges Bataille, Carl Einstein, and Michel Leiris, pressed representation to its limit at the verge of an ecstatic identification with the world.