---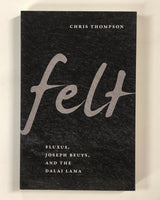 Felt: Fluxus, Joseph Beuys, and the Dalai Lama By Chris Thompson

8vo. pp. xxviii, 319. black & white illustrations. index. wrs. Minneapolis: University of Minnesota Press, [2011].


New.


ISBN-10:
0816653550
/ ISBN-13: 9780816653553


______________________________________________________________________________________________
Felt provides a nonlinear look at the engagement of the postwar avant-garde with Eastern spirituality, a context in which the German artist Joseph Beuys appears as an uneasy shaman. Centered on a highly publicized yet famously inconclusive 1982 meeting between Beuys and the Dalai Lama, arranged by the Dutch artist Louwrien Wijers, Chris Thompson explores the interconnections among Beuys, the Fluxus movement, and Eastern philosophy and spiritual practice.

Building from the resonance of felt, the fabric, in both Tibetan culture and in Beuys's art, Thompson takes as his point of departure Deleuze and Guattari's discussion in A Thousand Plateaus of felt as smooth space that is "in principle infinite, open, and unlimited in every direction," its structure determined by chance as opposed to the planned, woven nature of most fabrics. Felt thus invents its methodology from the material that represents its object of inquiry and from this advances a reading of the avant-garde. At the same time, Thompson demonstrates that it is sometimes the failures of thought, the disappointing meetings, even the untimely deaths that open portals through which life flows into art and allows new conjunctions of life, art, and thought.