---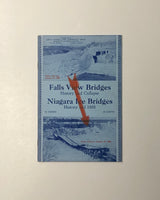 Falls View Bridge History and Collapse by James C. Morden & Niagara Ice Bridges History and 1938 by W. Bruce Leslie
8vo. pp. 24. b/w illustrations. paperback wrs. (fine condition - one leaf loose). Niagara Falls: F.H. Leslie Limited 1938.
Fifth Edition.
_______________________________________________________________________________________________
On January 27th 1938, the Falls View Bridge, also known as the Honeymoon Bridge and the Upper Steel Arch Bridge, collapsed into the River Niagara, near the famous falls. At the time it was built - it opened to traffic in 1898 - it was the world's longest such structure with a span of just over 256 metres and a total length of 377 metres. Designed by engineer L.L. Buck, it carried double tracks for electric trams and also accommodated carriages and pedestrians. The steel, arch bridge had a wooden deck and the abutments rose just a few feet above the level of the water.
The bridge had already undergone modifications. Shortly after its opening, in January of 1899, ice jams in the river engulfed the abutments and formed around the steel girders of the bridge. The International Traction Company, which owned the bridge at the time, built 7 metre high walls around the abutments, beginning more than a metre below the water level.