---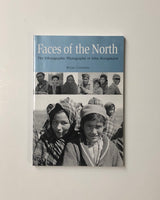 Faces of the North: The Ethnographic Photography of John Honigmann by Bryan Cummins
8vo. pp. 192. black & white illustrations. references. index. paperback wrappers (slight crease to back cover). Toronto: Natural Heritage Books, [2004].
ISBN-10: 1896219799 / ISBN-13: 9781896219790

_______________________________________________________________________________________________
John J. Honigmann was an anthropologist of rare energy and talent. In addition to writing numerous books and dozens of articles, he is the only anthropologist whose research and field experience extend across the three northern culture areas of Canada – the Western Subarctic, the Eastern Subarctic and the Arctic. Faces of the North presents a record of exceptionally high quality photographs depicting this extraordinary anthropological journey.

Cultural anthropologist Bryan Cummins has compiled a written and photographic account of Honigmann's ethnographic work from the 1940s to the 1960s. The result is a stunning ethnohistorical account of Canada's First Nations in the mid-20th century. The author also provides an overview of northern First Nations (Algonkians, Dene and Inuit), a history of Canadian anthropology and the sub-discipline of ethnographic photography, and a biographical account of Dr. J.J. Honigmann, the acknowledged pre-eminent chronicler of the cultural diversity of Canada's north. His superb photographs, many of which are found throughout Faces of the North, are a rich treasure of ethnographic images depicting Inuit and First Nations culture.