---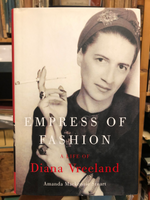 8vo. pp. 419. 8 double sided illustrated plates. biblio. index. bds. dw. [New York]: HarperCollins, [2012].
Diane von Furstenberg once called Diana Vreeland a "beacon of fashion for the twentieth century." Now, in this definitive biography by Amanda Mackenzie Stuart, is the story of the iconic fashion editor as you've never seen her before. From her career at the helms of Harper's Bazaar and Vogue, to her reign as consultant to the Costume Institute at the Metropolitan Museum of Art, Vreeland had an enormous impact on the fashion world and left a legacy so enduring that must-have style guides still quote her often wild and always relevant fashion pronouncements.
With access to Vreeland's personal material and photographs, critically acclaimed biographer Amanda Mackenzie Stuart has written the ultimate behind-the-scenes look at Diana Vreeland and her world—a jet-setting social scene that included Coco Chanel, Elsa Schiaparelli, Yves Saint Laurent, Hubert de Givenchy, Oscar de la Renta, Lauren Bacall, Penelope Tree, Lauren Hutton, Andy Warhol, Mick and Bianca Jagger, and the Kennedys. Filled with gorgeous color photographs of her work, Empress of Fashion: A Life of Diana Vreeland is an elegant and fascinating account of one of the most revered tastemakers of the 20th century.