---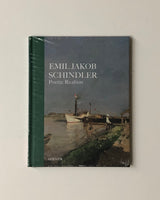 Emil Jakob Schindler: Poetic Realism by Agnes Husslein-Arco, Alexander Klee & M. Fellinger
8vo. pp. 128. illustrated. hardcover boards. Munich: Hirmer, 2013.
New in publisher's shrink wrap.
ISBN-10: 3777420328 / ISBN-13: 9783777420325
_______________________________________________________________________________________________
Viennese painter Emil Jakob Schindler (1842-92) is known for his idealized, poetic landscapes, "atmospheric Impressionist" paintings that represent a key moment in the shift from the opulence of Viennese art of the earlier part of the nineteenth century towards a new understanding of nature. Schindler's landscapes are influenced by romanticism, with their lonely chapels and couples walking in deep forests, but they also show the influence of the symbolist movement, the World Exhibition, and the Barbizon school--in addition to the longer Viennese tradition. Schindler's landscapes are of particular interest in part because he doesn't represent nature as separate from humanity--rather, by presenting not only people but water mills, steamboats, and other manmade objects, he suggests a fundamental harmony between humans and the natural world.

This book reproduces more than one hundred of Schindler's paintings, accompanied by essays exploring his career, the artistic scene of his time, and his influence.