---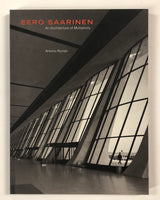 Eero Saarinen: An Architecture of Multiplicity by Antonio Roman


4to. pp. xiii, 225. profusely illustrated. bibliography. index. wrs. New York: Princeton Architectural Press, [2003].


New & out-of-print.


ISBN-10: 1568985959 / ISBN-13: 9781568985954

___________________________________________________________________________________________

Eero Saarinen was one of the great masters of American twentieth-century architecture,but it was not always so. Saarinen languished in critical purgatory for decades until his untimely death in 1961. Eero Saarinen: An Architecture of Multiplicity corrects this slight of history. The first book in four decades to offer a critical evaluation of the architect's work, this hallmark publication constitutes a fresh, new approach to one of the most daring and successful careers in the history of modern design.
During his brief practice, Saarinen designed such beloved landmarks as the TWA terminal in JFK Airport, the Gateway Arch in St. Louis and Dulles Airport outside Washington D.C. His furniture designs for the Knoll company including his Tulip and Womb chairs, remain modern icons the world over. Commissions for CBS, General Motors, IBM, and John Deere helped invent the idea of a modern corporate culture, while his designs for educational institutions - including Yale, Penn, and M.I.T. - serve as inspirational monuments to academia at campuses across the nation.

With this groundbreaking and abundantly illustrated monograph, which received the 2005 Distinction award from the Official Society of Architects of Madrid, architect and historian Antonio Roman sheds new light on Saarinen's practice by showcasing his most important works and argues convincingly for his relevance as a pivotal figure in the history of American architecture.