---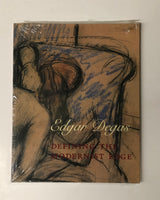 Edgar Degas: Defining the Modernist Edge By Jennifer Gross & Richard Kendall



8vo. pp. 72. profusely illustrated. wrs. New Haven: Yale University Press, 2003.

Published in conjunction with an exhibition.

New in publisher's shrink wrap.


ISBN-10: 0300100043 / ISBN-13: 9780300100044

_____________________________________________________________________________________________

Through his representation of modern subjects such as ballet dancers and race horses, his constant questioning of traditional artistic practices, and his vital engagement with Parisian society, Edgar Degas (1834–1917) helped to define the beginnings of modernism in visual culture at the end of the nineteenth century. This engaging book yields new scholarship on works by Degas in the collection of the Yale University Art Gallery and provides in-depth discussion of works of art in every medium explored by this innovative artist. Extended entries by distinguished scholars including Richard Kendall and Edgar Munhall provide a complete review of the artist's working methods. The book also introduces several important pieces by Degas that have rarely been available for view by the public, including a notable wax figure and several unique prints and works on paper.