---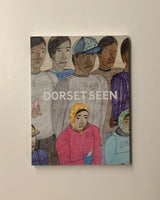 Dorset Seen by Leslie Boyd And Sandra Dyck
8vo. pp. 142. profusely illustrated. paperback wrs. [Ottawa]: Carleton University Art Gallery, [2013].
Published in conjunction with an exhibition.
New & out-of-print.
ISBN-10: 0770905730 / ISBN-13: 9780770905736
________________________________________________________________________________________________
Dorset Seen looks at how 20 Kinngait artists, past and present, have represented their lives and community over the last sixty years. Featuring 48 drawings and 22 sculptures, this superbly illustrated publication does not focus exclusively on the contemporary, nor does it equate earlier artists with ideas of "tradition." Kinngait's artists have always been inspired by their everyday lives, regardless of aesthetic conventions or market pressures. The artists tackle Christianity and colonialism, the Hudson Bay Company and the RCMP, family and sport, architecture and community development, technology and transport, alcoholism and suicide. An essay is accompanied by interviews with artists Tim Pitsiulak and Ningiukulu Teevee.The artists featured: Kiugak Ashoona, Shuvinai Ashoona, Etidlooie Etidlooie, Isaci Etidloi, Qavavau Manumie, Ohotaq Mikkigak, Jamasie Pitseolak, Mark Pitseolak, Tim Pitsiulak, Annie Pootoogook, Itee Pootoogook, Kananginak Pootoogook, Napachie Pootoogook, Paulassie Pootoogook, Pudlo Pudlat, Kellypalik Qimirpik, Ningeokuluk Teevee, Jutai Toonoo, Samonie Toonoo, Ovilu Tunnillie.