---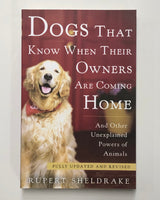 Dogs That Know When Their Owners are Coming Home and Other Unexplained Powers of Animals by Rupert Sheldrake
Fully Updated and Revised


8vo. pp. xiv, 385. text illustrations & charts. index. wrs. New York: Three Rivers Press, [2011].


New.


ISBN-10:
0307885968
/ ISBN-13: 9780307885968
How do cats know when it's time to go to the vet, even before the cat carrier comes out? How do dogs know when their owners are returning home at unexpected times? How can horses find their way back to the stable over completely unfamiliar terrain? And how can some pets predict that their owners are about to have an epileptic fit?

These intriguing questions about animal behaviour convinces one of the world's most innovative biologists that the animals that are the closest to us have much to teach us about science, nature, and consciousness. Filled with captivating stories and thought-provoking analysis, this book is a groundbreaking exploration of animal behaviour that profoundly affects the way we think about animals - and ourselves. In this new edition, Rupert Sheldrake builds on his years of extensive studies.
With a scientist's mind and an animal lovers compassion, Sheldrake not only provides a fascinating look into animal and human behaviour, but also teaches us to question the boundaries of conventional scientific thought.