---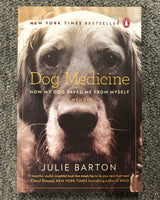 8vo. pp. xiii, 238. wrs. [New York]: Penguin Books, [2016].
Brand new in softcover!
A must read for animal lovers!
A New York Times Bestseller

"Dog Medicine simply has to be your next must-read." — Cheryl Strayed 
"Dog Medicine is a love story - a great big beautiful honest touching intoxicating riveting page-turning instruction manual on the palpable healing power of love and forgiveness. Every word in this book is as honest and courageous as any I've ever read, and I've read a lot  " — Robin Oliveria

At twenty-two, Julie Barton collapsed on her kitchen floor in Manhattan. She was one year out of college and severely depressed. Summoned by Julie's incoherent phone call, her mother raced from Ohio to New York and took her home.

Haunted by troubling childhood memories, Julie continued to sink into suicidal depression. Psychiatrists, therapists, and family tried to intervene, but nothing reached her until the day she decided to do one hopeful thing: adopt a Golden Retriever puppy she named Bunker. Dog Medicine captures the anguish of depression, the slow path to recovery, the beauty of forgiveness, and the astonishing ways animals can help heal even the most broken hearts and minds.