---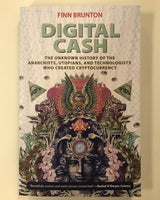 Digital Cash: The Unknown History Of the Anarchists, Utopians, and Technologists Who Created Cryptocurrency by Finn Brunton


8vo. pp. 255. bibliography. index. wrs. Princeton & Oxford: Princeton University Press, [2019].
New.
ISBN-10:
0691209162
/ ISBN-13: 9780691209166


The fascinating untold story of digital cash and its creators―from experiments in the 1970s to the mania over Bitcoin and other cryptocurrencies


Bitcoin may appear to be a revolutionary form of digital cash without precedent or prehistory. In fact, it is only the best-known recent experiment in a long line of similar efforts going back to the 1970s. But the story behind cryptocurrencies like Bitcoin and its blockchain technology has largely been untold―until now. In Digital Cash, Finn Brunton reveals how technological utopians and political radicals created experimental money to bring about their visions of the future: to protect privacy, bring down governments, prepare for apocalypse, or launch a civilization of innovation and abundance that would make its creators immortal. Filled with marvelous characters, stories, and ideas, Digital Cash is an engaging and accessible account of the strange origins and remarkable technologies behind today's cryptocurrency explosion.