---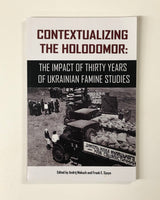 Contextualizing the Holodomor: The Impact of the Thirty Years of Ukrainian Famine Studies
Edited by Andrij Makuch and Frank E. Sysyn




8vo. pp. viii, 126. wrs. Toronto & Edmonton: CIUS Press [Canadian Institute for Ukrainian Studies Press], [2015].


New.


ISBN: 9781894865432
______________________________________________________________________________________________
It was in the 1980s that the Famine of 1932–1933 in Ukraine became the subject of serious academic  study. The publication of Robert Conquest's ground-breaking The Harvest of Sorrow in 1986 in particular focused attention on what has come to be known as the Holodomor. The pace of research accelerated in the wake of the disintegration of the Soviet Union, when archives that had been off limits became accessible. Issues that had once raised controversy such as whether the Ukrainian borders had been closed were resolved by documentary evidence. Careful demographic studies replaced intuitive estimates on population losses. In addition, the amount of survivor testimony expanded many times over. Yet many issues continue to be debated, such as the relation of the Holodomor to the general Soviet famine, intentionality, and the question of genocide.
With this context in mind, the Holodomor Research and Education Consortium (HREC) of the Canadian Institute of Ukrainian Studies partnered with several institutions to organize a conference examining what thirty years of scholarly work on the Famine has added to our understanding of Ukrainian history, Soviet history, communism, and genocide studies. The conference, held in September 2013 on the eightieth anniversary of the Holodomor, brought together specialists to discuss the impact in their fields of research and academic discourse on the Holodomor. This book contains the conference papers given by Norman Naimark, on genocide; Andrea Graziosi, on Soviet history; Françoise Thom, on Stalinism; Olga Andriewsky, on Ukrainian history; and Stanislav Kulchytsky, on communism. An introductory article by Frank Sysyn provides an overview of thirty years of research on the Holodomor. These papers first appeared in the journal East/West: Journal of Ukrainian Studies, edited by Oleh Ilnytzkyj.