---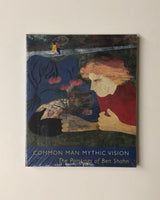 Common Man, Mythic Vision: The Paintings of Ben Shahn by Susan Chevlowe
4to. pp. 208. illustrated. paperback wrs. New Jersey: Princeton University Press, 1998.
New in publisher's shrink wrap.
ISBN-10: 0691004072 / ISBN-13: 9780691004075
______________________________________________________________________________________________
Published in conjunction with an exhibition organized by The Jewish Museum, New York.
Ben Shahn (1898-1969) has long been renowned for his Social Realist paintings of Depression-era America. Equally striking, however, are Shahn's extraordinary later works, which reveal a more introspective style as well as the evolution of a new allegorical and mythical pictorial language. This book combines beautiful reproductions of Shahn's art with essays by leading experts on his life and career to present a groundbreaking survey of his powerful and engaging mature style. The volume is published in conjunction with a major traveling exhibition organized by The Jewish Museum, New York, to commemorate the centenary of Shahn's birth. The book contains more than one hundred illustrations, including 32 in colour.

Susan Chevlowe opens the book by situating Shahn's art in the context of his long and remarkable career. She explains how Shahn became disillusioned with partisan ideologies of the 1930s, moving away in the 1940s and 1950s from critiques of specific social issues to explore universal human concerns and subjective experiences, including his own childhood memories. She also explores the increasing use of allegory, myth, and biblical imagery in Shahn's later work. Diana L. Linden examines the central importance of Shahn's secular Jewish identity in shaping his artistic responses to social and political issues, immigration, and war in murals created in the New Deal era. Stephen Polcari places Shahn in the context of his artistic contemporaries, showing how artists who worked in radically different styles--Regionalists, Expressionists, and Abstract Expressionists--were similarly engaged in a tense reexamination of the fate of humanity in the postwar period. Frances K. Pohl focuses on three of Shahn's most important paintings: Allegory (1948), Second Allegory (1953), and Third Allegory (1955). She argues that these works represent Shahn's search for a new symbolic language to express the personal and political upheavals of the post-Holocaust era marked by atomic weapons and the Cold War. The book also includes an illustrated chronology of Shahn's career, compiled by Howard Greenfeld, author of a major new biography of the artist.

This beautifully illustrated book will stimulate new critical and popular interest not only in the compelling late works but also in the entire career of a major American artist.