---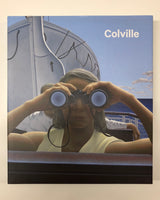 Colville
Edited by Andrew Hunter
4to. pp. 156. profusely illustrated. bds. dw. [Toronto]: Art Gallery of Ontario [in association with] Goose Lane Editions, [2014].
Published in conjunction with the exhibition Alex Colville:
Art Gallery of Ontario August 23, 2014 - January 4, 2015
National Gallery of Canada April 24 - September 7, 2015

New.
ISBN-10: 0864920172 / ISBN-13: 9780864920171
This magnificent volume honours the legacy of iconic Canadian artist Alex Colville and explores the reverberations between work and that of contemporary filmmakers, writers and artists.

Colville is known for painting decidedly personal subject matter. His precise images depict an elusive tension that suggests a sense of danger and caprtures moments perpetually on the edge of the unknown. Featuring more than 100 reproductions, Colville includes works from museums and private collections across Canada. The volume spans the entirety of Alex Colville's career and contains many images that have never before been  reproduced or shown publicly, as well as his most iconic paintings, including Horse and Train (1954); To Prince Edward Island (1965), Woman in Bathtub (1973) and Target Pistol and Man (1980).
Alex Colville was a painter, printmaker, and war veteran who drew his inspiration from the world around him, transforming the seemingly mundane figures and events of everyday life into archetypes of the modern condition. He was made a Companion of the Order of Canada in 1982 and won a Governor General's Visual and Media Arts Award in 2003.