---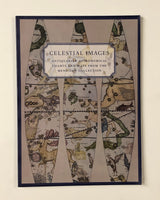 Celestial Images: Antiquarian Astronomical Charts and Maps from the Mendillo Collection


folio. pp. 87. profusely illustrated. wrs. Boston: Boston University Art Gallery, 2005.

New.


ISBN-10: 1881450228 / ISBN-13: 9781881450221

_______________________________________________________________________________________________

Celestial Images celebrates the Golden Age of astronomical charts. Illustrations of cosmologies and heavenly phenomena entered an innovative phase at the time of the Renaissance, when the invention of printing improved the means of disseminating scientific knowledge and advances in astronomy revealed new information to be portrayed. This fortuitous conjunction engendered printed astronomical charts of surprising accuracy and delicate beauty. Assembled here from the Mendillo Collection of Antiquarian Astronomical Charts and Maps are over eighty examples of some of the finest celestial cartography created. There are star charts (maps of the constellations and the full celestial sphere), charts of planetary systems (cosmologies), and a smaller third category, charts of celestial phenomena (such as nebulae, comets, and eclipses). Together, they pay homage to the time when simple systems explained the universe and humankind held friendly commerce with the skies.