---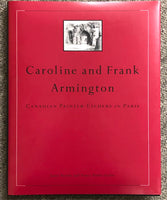 Caroline and Frank Armington: Canadian Painter-Etchers in Paris
by Janet Braide and Nancy Parke-Taylor

4to. pp. 184. b/w illustrations. bibliography. chronology. index. cloth. dw. [Brampton]: The Art Gallery of Peel, 1990.

New.

ISBN: 0969427409 / 9780969427407


A must have for Armington Collectors



Although Canadian by birth, Caroline and Frank Armington made their reputations in France. Studying and working in Paris for nearly thirty-five years, they became firmly established in the artistic community in the Latin Quarter.


Tracing their Ontario beginnings to their studies in Paris and their subsequent rise in popularity and commercial success, the book is a must have for any Armington fan and collector.


While the two artists were distinct, it is impossible to discuss the one without the other. The similarity of their work, their travels and exhibitions together indissolubly link them in a manner more profound than the simple fact of marriage.