---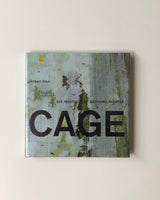 Cage: Six Paintings by Gerhard Richter by Robert Storr
square 8vo. pp. 200. English text. profusely illustrated. hardcover cloth. dw. (fine condition). [London]: Tate Publishing, [2009].

out-of-print.
ISBN-10: 1854378562 / ISBN-13: 9784854378569

________________________________________________________________________________________________
German artist Gerhard Richter (b. 1932) is widely regarded as one of the most important painters at work today. His diverse body of work has been exhibited at major institutions worldwide and in 2001, he was given a solo retrospective at The Museum of Modern Art in New York. The Cage Paintings, conceived as a single coherent group and first displayed at the Venice Biennale in 2007, pay homage to the American avant-garde composer John Cage (1912-1992), who famously declared "I have nothing to say and I'm saying it." Richter, equally suspicious of ideologies, shies away from giving psychological interpretations of his paintings, preferring to allow viewers and critics to make up their own minds.
In this strikingly illustrated volume, critic Robert Storr considers the importance of The Cage Paintings within Richter's practice and within the wider context of abstract art. A series of extraordinary photographs document the development of each of these monumental canvases, giving unique insight into Richter's artistic approach.